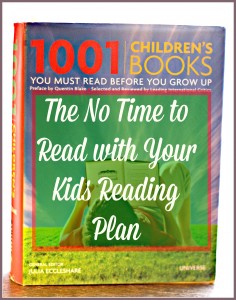 In my quest to bring back the Family Book, I'm testing out ways to make time to read books together with my kids. I'm open to any plan that has us reading the same section of the book on roughly the same day. Here are four ways I've brainstormed so far:
Eat an Elephant. Remember that very old and very bad joke – How do you eat an elephant? One bite at a time. I just timed it, and it took one minute and one second to read one page of The Magician's Elephant aloud. If we get in five pages a day during the week, and slightly more on the weekends, we could read at least a few books a year together.
Book Club Style. If everyone reads (or listens to) a prearranged section of the book separately, we can discuss it over dinner.  One big advantage to this plan is that my husband, who frequently listens to audiobooks during his commute, can join in. Last year he listened to the first six Harry Potter books and the kids really enjoyed discussing them with him. He is waiting to listen to the last one when Gray, our youngest, gets to read it. We allow one new Harry Potter on each birthday once they reach book five. That allows a little time for maturing, since the books certainly mature as they go.
The Commute Plan. Audiobooks are another great way to get in reading time. We used to listen to a lot of books while driving to and from activities, and it makes the time pass so quickly. Between free audiobook download sites, audible.com, and the public library, there's always something good to listen to out there.
The No Television Plan. I wish this plan would be more helpful, but we're not big TV watchers. We record several shows to watch together as a family (Dancing with the Stars, The Voice, stuff like that) and rarely end up watching them because we're all so busy.
Do you fit in books with your older kids? How do you choose which books to read together? Have you tried any of these strategies?