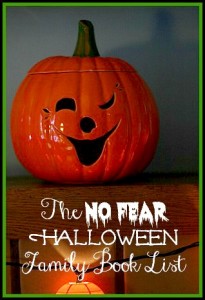 Type in Halloween books into any search engine and you'll get a lovely list of picture books, but if you're looking for a book the whole family can enjoy, you are rather limited. There are a few obvious choices, like the Harry Potter series, of course. But if you're looking for something different, here are a few lesser known Halloween/Autumn books that can fill the need for fun without fright:
A Wrinkle in Time
– This classic tale by Madeleine L'Engle begins "It was a dark and stormy night." Although the setting is not Halloween related, the story feels most appropriate for windy autumn days and nights. And of course, there are (almost) witches.
The Penderwicks on Gardam Street
– The second story in the series, set in fall (Halloween plays a prominent part), continues the story of four girls and their widowed father. There are no ghosts, no witches, just a wonderful family negotiating the real world. (The first book in the series won the National Book Award.)
The Girl Who Circumnavigated Fairyland in a Ship of Her Own Making
– This is the story of a girl named September who goes to Fairyland, signs on for a quest, and has many adventures. Another non-Halloween related book that just feels like Halloween.
Dying to Meet You
– A grumpy old writer moves into a haunted mansion – that's already occupied by a neglected boy and his cat. He quickly finds that co-parenting with a ghost can get a little complicated. This very quick read is packed with puns and lighthearted humor. We laughed out loud, a lot.
Jennifer, Hecate, Macbeth, William McKinley, and Me, Elizabeth
(by E.L. Konigsburg) – A little Halloween, a little pretend witchcraft, and a lot of learning to be friends. A funny, charming look at two lonely girls who bond over raw eggs and frogs. The Newbery Award was well deserved.

The Moffats
(by Eleanor Estes) – Originally written in 1941, this sweet, gentle book about four children and their widowed mother can be enjoyed by young and old alike. The Halloween scene makes me laugh out loud every time.
The Boggart
(by Susan Cooper) – A mischievous boggart living in an ancient Scottish castle accidentally gets transported to 1990s Canada. The story is adorable and funny and not remotely scary. As an added bonus, you'll get to explain to your children what a floppy disc is and why a computer screen would be black and white only!
Newbery Halloween – This collection of short, Halloween-related stories by Newbery award winners is sadly out of print. Look for it used, or pick it up from the library.
And as a bonus, here is a nontraditional Halloween movie, rated PG (see parental guidelines here):
Penelope
– Due to an ancestor's transgression, Penelope has been cursed to wear the nose and ears of a pig until she finds love. This fairy tale romance is actually a message about loving ourselves as we are.
And here are two of the most adorable Halloween songs ever (YouTube links):
Plus an album that can be found on Amazon or Spotify:
*I only recommend books that I or my children have read and media that we've enjoyed. I'm always looking for more Family Books to add to our collection. Suggestions would be greatly appreciated!