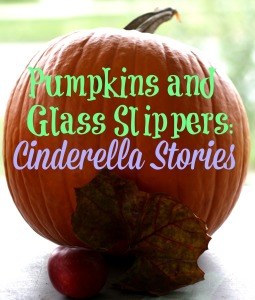 I've had pumpkins on the brain, thanks to Halloween. Pumpkins are by far my favorite Halloween symbol, and sooooo delicious. Pumpkin Spice Everything!!! Last night we tried Kitchen Treaty's One Pot Pumpkin Pasta. It was a hit with half the family, which in my house makes it a success. We love to carve and paint pumpkins, too, but we always wait until the last moment. We've even been known to carve pumpkins right before trick or treating!
In honor of all the pumpkin transformation going on all over the country, I thought I'd talk about the ultimate pumpkin transformation. I mean, bibbidy bobbidy boo, you're a carriage! Talk about getting a purpose in life!
Here is a smattering of the Cinderella stories that I love.
Novels/novellas, great for family reads:
Ella Enchanted – I think everyone's heard of this one. Gail Carson Levine is absolutely brilliant at reimagining fairy tales, and this is no exception. As always, the book is better than the movie.
Cinder – A cyborg cinderella in a dystopian future. It's much better than it sounds. Read my full review here.
Cinderellis and the Glass Hill – A male cinderella with magical powers and rotten brothers. His relationship with Princess Marigold gets off to a bit of a rocky start. This story is part of Gail Carson Levine's Princess Tales. You can find volume 1 and volume 2 here.
 Picture books with really compelling stories. (Three of these stories are by Shirley Climo. There are many others in the series and my kids enjoy them all):
The Egyptian Cinderella – Cinderella is Rhodopsis, a Greek slave girl in Egypt, and the prince is none other than Pharaoh himself!
Yeh-Shen: A Cinderella Story from China – The "fairy godmother" is a magic fish.
Mufaro's Beautiful Daughters – The king disguises himself to determine which of two beautiful daughters he should marry.
The Irish Cinderlad – Cinderella is a boy with big feet and a magical bull for a fairy godmother.
Two nontraditional movie versions that we love:
Ever After – Drew Barrymore's Cinderella is a feisty go-getter, but the Leonardo Da Vinci character very nearly steals the show.
The Slipper and the Rose -This is a lovely musical version of Cinderella.
There are literally thousands more out there, so I'm sure I've missed a lot of good ones. What are your family's favorite Cinderella tales?