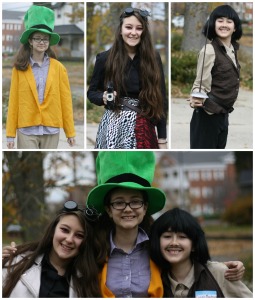 October has come to a close, and I'm marking the month as a success. Halloween was wonderful but low-key. I have a confession – we didn't try any of the new traditions I was so excited about! And pumpkins were still being carved as the first trick or treaters came up the walk.
The frightful weather kept all but the most diehard kids at home. The candy contingent said they had 20 kids or less! I went out with Gray in the pouring rain. As I walked away, Alan yelled "Mother of the Year!" and at the end of the night Gray offered me all his extra candy.
It's nice to be appreciated.
I always feel like the new year begins in November – I guess it's my Celtic roots coming through, or maybe the fact that my birthday is this month, which always makes me contemplative. I'm starting a yearly life review based on Chris Guillebeau's template. I may also adopt Modern Mrs. Darcy's one word (although I'll choose my own word, of course). I'm starting now to avoid the knee-jerk January 1st resolution list that is forgotten in a month week or less. I'm also focusing on who I want to be first, instead of what I want to accomplish. I really like this quote by Coco Chanel:
"How many cares one loses when one decides not to be something but to be someone."
I know that who we are is a direct result of what we do, but I tend to create a task list for myself instead of a path to the person I want to be in one, five, and ten years.
On a lighter note, we're off to New York City this month! I'm so excited to see the Radio City Rockettes and hopefully a Broadway or off-Broadway show! Since I'm Macy's Thanksgiving Parade-obsessed, I also want to see the Believe Meter in person. I think we've all picked one or two things that will make the trip for us and we're going to try to fit them all in. I'll be posting pictures and what we've learned after we get back.
In the mean time, I'm off to re-read Creating a Charmed Life by Victoria Moran and read First Impressions by Charlie Lovett and All the Light We Cannot See by Anthony Doerr. I'm listening to Eighty Days, which I was originally reading but decided would be better as an audiobook. I was right!
Does anyone else start their new year's planning at an odd time? And what are you reading right now?