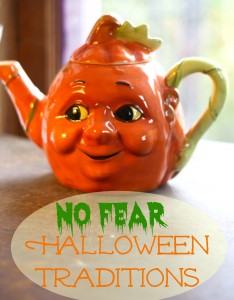 Halloween is in a state of flux in our house. As of this year, only one child is still young enough to trick or treat (our house rule is that you can only trick or treat until you're twelve). Every year, it seems like there are more kids sitting on the porch handing out the candy and less working hard and planning for months to get just the right costume.
I'd like to find some activities to make Halloween more exciting for the whole family, so I went digging for some traditions to try out. We're a no-fear group: none of the kids like scary movies or being scared, and frankly, neither do my husband or I. This pretty much knocks out current popular notions of Halloween "fun" – no haunted houses or scary movie marathons for us.
Instead, I'm looking more to the origins of the holiday we now call Halloween. It originated as a pagan holiday called Samhain. It was the final harvest festival of the year, as well as being New Year's Eve. Pagans believed that the barriers between the worlds of the living and the dead were more open that night, and they honored their ancestors, assuming they were closer than usual. This was not fear-based; they just figured that if Aunt Bessie was around, it would be nice to tell her how much she was missed.
When the Romans joined the mix, they added elements from their harvest festival, honoring the goddess Pomona. This is where the apples come in. The holiday morphed and changed over the many centuries and only became a child-oriented holiday in the mid-20th century. As a matter of fact, Victorians used the holiday as a matchmaking opportunity!
While I don't want it to be a matchmaking day, I do want to approach the holiday from a different perspective: I want to bring back some of the non-sugar, non-fright elements of the holiday, without making a lot of work for myself. Here are the low-effort activities I'm considering this year:
Have an Ancestor's Dinner: Have a fancy holiday dinner, but "invite" some special guests. Ask each person to choose someone who is no longer living that they would have loved to have dinner with. This can be anyone from Great-Grandma to Albert Einstein.
Eat a Fortune-telling Dessert: Make a pudding or a cake and insert small plastic or metal symbols, like a ring, a "gold" coin, a pirate's chest, a ballerina. (For safety, insert them after cooking.) You can personalize them to your family. We would probably choose a set of Disney figurines.  Another possibility would be a set of animals like the ones made by TOOB.  Then you can assign each figurine a meaning, like riches, good grades (0wl), etc., or actually write out a fortune for each one. Pass around the bowl and have each person tap until they hit something, then scoop out a serving onto their plate.
Play the Spiderweb Game: While the kids are otherwise occupied, take yarn or twine and create a spiderweb through one room of the house, probably whichever one has the least breakables! Give each child their own web to untangle, and put a treat at the end. Make it easier for younger children by using different colored string.
The first two ideas are from an out-of-print book called Mrs. Sharp's Traditions. Look for it at your local library. The third I originally saw in The Tightwad Gazette.
What non-fright Halloween traditions does your family celebrate? Is Halloween a big deal in your house, or just an excuse to eat candy? (Yum. Candy.)