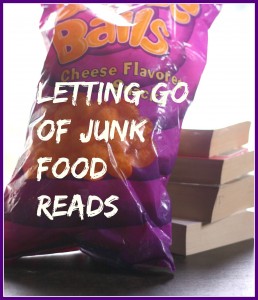 For a long time, a fair amount of my personal reading has consisted of light and fluffy romance novels. They required little in the way of attention, were emotionally satisfying thanks to the required Happily Ever After (or as my favorite non-fluffy romance author says, Happy Right Now), and stayed with me for about the same amount of time it takes to digest a slice of white bread.
Then a funny thing happened. I read, over the course of maybe six months, a romance series. We're talking better than twenty books. When the newest one came out, I realized I couldn't remember one complete storyline or the name of a single character. On the other hand, I still tear up every time I look at the cover of The Time Traveler's Wife
, and it's been years since I read it.
That's when I decided that life is just too short to live on a steady diet of junk food reads.
Will I still read one occasionally? Sure. There are times when I want to lose myself in a story that I don't mind coming back out of at a moment's notice. Will I still read romance? Absolutely. There are a lot of romance writers who don't fall into the light and fluffy category. Jenny Crusie writes romance with humor and great characters and great sex and frequently bad sex, which is humorous in its own right. I could read Agnes and the Hitman
over and over again. Ditto for Susan Elizabeth Phillips (except the bad sex. That seems to be Jenny's forte.). My favorite of hers is Breathing Room
. Sarah Addison Allen's Garden Spells (Bantam Discovery)
is lyrical and magical and on my regular re-read list.
In general, though, I'm going to look for my romance elsewhere. I recently read/listened to The Golem and the Jinni: A Novel (P.S.)
by Helene Wecker. It was historical fiction and fantasy and romance all rolled up into one incredible package. I'm currently trying The Museum of Extraordinary Things: A Novel
by Alice Hoffman, and I'm on the lookout for other epic non-fluffy romances to add to my TBR list.
What's your preferred junk food read, and how often do you indulge? Do you have any epic romances to recommend? I'd love to hear your thoughts!