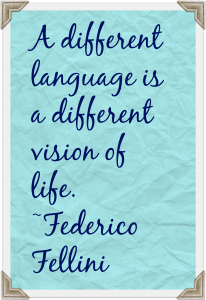 I'm kind of a language junkie. I've studied (but not mastered) French, Spanish, German, Italian, Russian, and Ancient Greek at one time or another in my life. As a matter of fact, I was planning to be an interpreter at one point. That was over twenty years ago, and it's amazing how much I've lost in that time. Over the years I've tried a variety of tools to revive my language skills with little to moderate luck, but I'm finally getting somewhere! Thank heavens for the internet. I've been using a great free website called Duolingo.
Duolingo has a great interface that feeds you information in very short, very straightforward lessons. I spend about five minutes per lesson. There's lots of repetition and reinforcement, which is useful, and most of the languages use native speakers, so you can get a good handle on accents. The one exception to the native speaker rule that I've found so far is Irish Gaelic. There is a lot of talk on the discussion boards about how bad her accent is. I've always wanted to learn Irish, though, so I'm plugging away at it- with a plan to look up some YouTube videos to get a better handle on the accent.
There's also phone/tablet app that works really well. Only French, Spanish, German, Italian, and Portuguese are available on the app, though, so if you want to try out any of the other nine languages that are in beta (like Irish) or being developed, you'll have to go to the website.
Like all apps these days, there's a social media component. You can share your progress and compete with friends. I'm not a big social media user, other than Pinterest, but it would be fun to learn a language as a family, and this feature would certainly make it easier to compare progress.
Duolingo is well worth checking out if you want to play around with languages. It's fun and effective, and free!